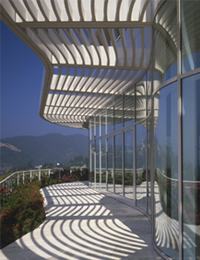 When you are in Southern California, and you know you all want to come, do plan to visit either the
Getty Center
in Los Angeles or the newly opened Getty Villa in Malibu. You'll need reservations, can be found online, for the latter but plan ahead.
If you can't get Villa reservations, do visit the Getty Center. It sits in the Santa Monica Mountains above Brentwood/Belair and on a clear day, has a fantastic view of Los Angeles. My favorite view is at night when the lights make the city sparkle like the jewel it is. The collection, Middle Ages through the present, is small enough to enjoy in a day, if you don't dawdle, but big enough to satisfy. No reservations required, just a parking charge of $7. Who can beat that? Our European visitors are always amazed we don't charge to enter the museum.
Don't care for museums? Just the garden, the architecture, and the views are enough, plus there is a four-star restaurant,
needs reservations
, and a great cafe at the Center. The Villa, though smaller gardens than the Center, houses the antiquities from Mr. Getty's collection of Greek, Roman, and Etruscan art. Due to limited parking at the Villa, reservations are a must, no one emitted without a ticket.
Check for available tickets
. They are booked through July of '06 but ever so often they let more tickets go. I'd suggest signing up for their
e-Getty Newsletter
as you will be notified when more tickets are available.
I've volunteered at the Getty Center as a docent since 2000 except for the two-year hiatus in Bakersfield, but I try not to think of that. It is a wonderful place and I smile thinking of how lucky I am to be there. Do plan to come and if you're there on a Wednesday you might just see me, I'm the one with the big smile.